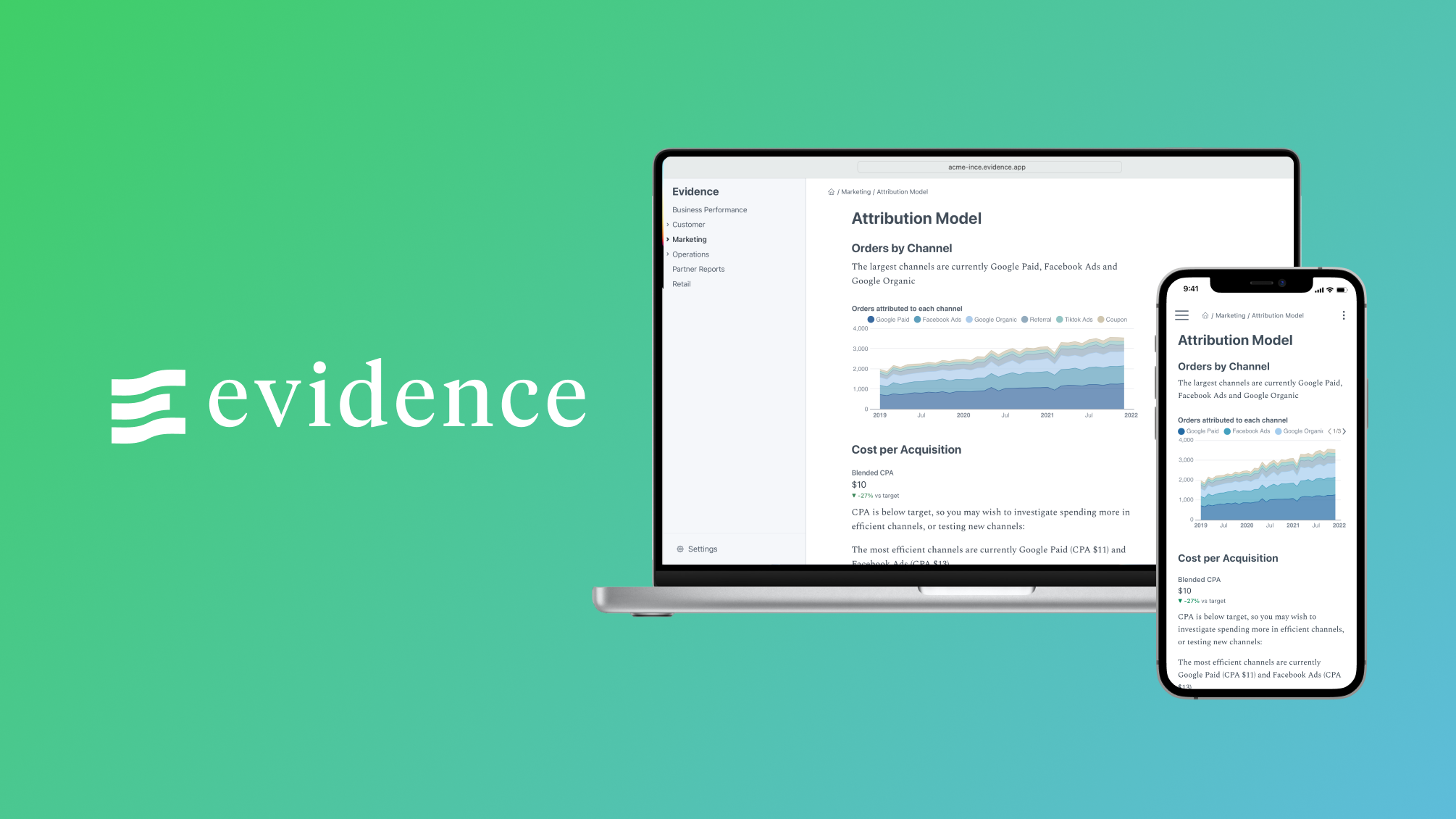 Announcing our $2.1M Seed Round and Evidence Cloud
Read our coverage on TechCrunch →
Today we're excited to share two important milestones for Evidence: our seed funding and the launch of Evidence Cloud.
Our $2.1 Million Seed Round
We've raised a $2.1 million seed round led by A.Capital, with participation from SV Angel, Y Combinator, Tristan Handy of dbt, Joe Morrissey, Tido Carriero, and several other angel investors.
With this funding, we're on a mission to empower data teams to deliver and maintain polished information products for their organizations and their customers. To accomplish this, we're combining the best of modern web frameworks, BI tools, and notebooks into a unique, opinionated open source tool.
In our experience, analytics professionals care deeply about their users, but too often find themselves constrained by the tools they use. We personally felt this pain with BI tools - we felt boxed in by the drag-and-drop dashboard interface and overwhelmed by the manual effort required to maintain hundreds of dashboards without any version control.
With Evidence, we're giving analysts a code-driven workflow for building reports - enabling them to build data products that are dramatically more expressive and maintainable than what's possible in BI tools today. We believe this is the future of business intelligence: a better communication tool, defined in code.
Launching Evidence Cloud
We are also launching Evidence Cloud - our deployment, hosting, and user authentication service for Evidence projects. Today, Evidence Cloud is invite-only. You can receive a referral invite from a current Evidence Cloud customer or you can request an invite here.
Data teams who are using Evidence today deploy it on their own infrastructure, and manage scheduling, authentication and CI/CD themselves. While this is a great fit for some teams, a purpose built deployment environment is one of the most often requested features.
Evidence Cloud keeps your projects up-to-date with fresh data, makes them available to your organization behind secure access control, and integrates with GitHub to deploy changes to your project every time your team pushes to main. If anything goes wrong, Evidence provides detailed logging, and continues to serve a prior version of your project to your users so that they never encounter errors.
All Cloud plans include unlimited developer accounts:
Our Starter Plan is free and also includes up to 5 viewer accounts.
The Team Plan is priced at $500/month and includes up to 50 viewer accounts.
Our Enterprise Plan covers any requirements beyond these, including >50 viewer accounts, SSO, and special support needs.
To learn more about Evidence Cloud, see our Cloud page.
More to Come
We are so proud of the incredible data products that our community has delivered with Evidence. Our open source project is about to cross 2,000 stars on GitHub and we were recently recognized by Runa Capital as one of the fastest growing open source startups last quarter. Today, Evidence is used by companies ranging from startups to enterprises. Some use Evidence alongside an existing BI tool for mission critical use cases where drag-and-drop tools have failed; many use Evidence as their only reporting tool.
Thank you to our community, early customers, users, supporters, open source contributors, and our families. With your help we are bringing a better analytics workflow to organizations around the world.
If you think Evidence is a fit for you, click here to get started.
If you'd like to chat with us about Evidence, book a time with the founders.